Who's who in Eric Adams' administration
13 min read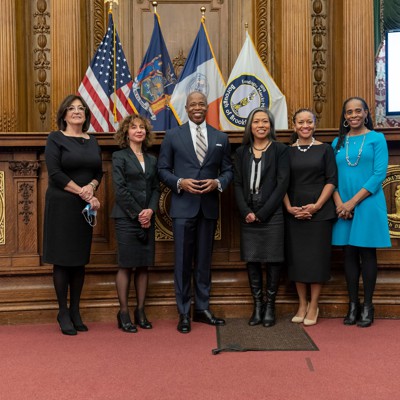 Yes, New York City Mayor Eric Adams is thinking about "emotional intelligence" as he fills out his administration, but he's also thinking about demographic representation. He said for months that he would appoint a woman to lead the New York City Police Department and he did, setting up Keechant Sewell to be the first female commissioner to lead the country's largest police force. The man who narrowly defeated two women in the Democratic primary also announced that five of his deputy mayors will be women – four of them women of color. And the leader of the city Department of Correction will be a Latino man, Louis Molina, overseeing a majority Black and Latino workforce overseeing jails where the majority of people incarcerated are also people of color.
Appointing leaders at the top level may take Adams some time. Outgoing Mayor Bill de Blasio was appointing commissioners well into April when he took over in 2014 – though he was criticized at the time. Here's who will be in the Adams administration so far. This list is updated as of Jan. 18.
City Hall Insiders
First deputy mayor: Lorraine Grillo
Grillo has been in city government for nearly three decades, starting at the School Construction Authority in 1993, the agency where she was appointed president by former New York City Mayor Michael Bloomberg in 2010. For a while, she served as commissioner of the city Department of Design and Construction at the same time, before de Blasio named her pandemic recovery czar earlier this year.
Deputy mayor for economic and workforce development: Maria Torres-Springer
Most recently the vice president for U.S. programs at the Ford Foundation, Torres-Springer previously served in the de Blasio administration as commissioner of the Department of Housing Preservation and Development, president and CEO of the Economic Development Corp. and commissioner of the Department of Small Business Services. Her husband, Jamie Torres-Springer, is president of the Metropolitan Transportation Authority's construction and development division.
Deputy mayor for health and human services: Anne Williams-Isom
While she is now the James R. Dumpson endowed chair in child welfare at Fordham's Graduate School of Social Service, Williams-Isom is best known as the former CEO and COO of the Harlem Children's Zone, an anti-poverty nonprofit organization. Before that, she was at the New York City Administration for Children's Services for more than a decade, ending her tenure as a deputy commissioner.
Deputy mayor for operations: Meera Joshi
Joshi is coming from the federal government, where she's deputy administrator in the U.S. Department of Transportation's Federal Motor Carrier Safety Administration. She was briefly New York general manager at Sam Schwartz consultants before that, but is best known as the former chair and CEO of New York City's Taxi and Limousine Commission. She also has experience at the city Department of Investigation and the Civilian Complaint Review Board.
Deputy mayor for public safety: Philip Banks
Banks resigned as chief of department for the NYPD in 2014 after a 28-year career. He said the cause was professional differences between himself and then-Commissioner Bill Bratton. But it was later revealed that Banks was under federal investigation for possible influence trading. He was never charged with a crime, but named in court papers as an unindicted co-conspirator. More recently, Banks has been consulting city governments and police departments with his firm CitySafe Partners.  
Deputy mayor for strategic initiatives: Sheena Wright
Wright is leading Adams' transition committee and is now getting a top job. She's president and CEO of the nonprofit United Way of New York City, and before that, she led the Abyssinian Development Corp. Her reported partner is David Banks, who has been appointed city schools chancellor. 
Chief advisor to the mayor: Ingrid Lewis-Martin
Lewis-Martin has been one of Adams' closest advisors since before he entered the state Senate in 2007. The "tough-as-nails gatekeeper" has worked with him throughout Adams' political career, most recently as deputy borough president of Brooklyn.
Chief counsel to the mayor: Brendan McGuire
A partner at white shoe law firm WilmerHale, McGuire previously led the public corruption unit for the U.S. Attorney's Office for the Southern District of New York. Back in March, McGuire wrote an op-ed in the Daily News calling on strict anti-corruption standards for the next mayor. McGuire is the son of Robert McGuire, who served as NYPD commissioner under former New York City Mayor Ed Koch. 
Chief of staff to the mayor: Frank Carone
Frank Carone, a giant in Brooklyn politics and close adviser to Adams through the campaign, is coming on as chief of staff to the new mayor. Carone, a lawyer, has developed a reputation as a political power broker and is expected to serve in a similar capacity as de Blasio's longtime chief of staff Emma Wolfe, the Times reports.
First deputy chief of staff to the mayor: Dawn Miller
Previously chief of staff at the Taxi and Limousine Commission, Miller was more recently in the private sector as vice president for policy and partnerships at Coord , a street space management tech startup. 
Deputy chief of staff to the mayor: Madeline Labadie
Labadie is also coming from the TLC, where she worked for seven years, most recently as director of strategic initiatives. Before that, she was a political coordinator for the Hotel Trades Council. 
Deputy chief of staff to the mayor: Ryan Lynch
Previously a director with the Tri-State Transportation Campaign, Lynch joined Adams at Brooklyn Borough Hall back in 2014, rising up to becoming the then-borough president's chief of staff.
Deputy chief of staff to the mayor: Menashe Shapiro
A top staffer on Eric Adams' mayoral campaign – known for defending the candidate on Twitter – Shapiro is an attorney and longtime political consultant who previously worked on Michael Bloomberg's presidential and 2009 reelection campaign. 
Senior advisor to the mayor: Stefan Ringel
Ringel is one of Adams' longest-tenured aides. He started at Brooklyn Borough Hall under the previous borough president, Marty Markowitz, and worked for Adams as communications director, then senior advisor, and worked on his mayoral campaign as well. Before that, Ringel worked comms for then-Council Member Jumaane Williams.
Senior advisor to the mayor: Eric Ulrich
A New York City Council member for more than 12 years representing parts of the Queens and the Rockaways, Ulrich was a public supporter of Adams' mayoral campaign despite being a Republican who had said he planned to vote for Donald Trump in 2020. Ulrich ran for public advocate in 2019, and came in second. 
Senior advisor for external affairs to the mayor: Tiffany Raspberry
A top advisor on Adams' campaign and transition team, Raspberry has been a political consultant and lobbyist for nearly two decades, recently representing clients including Success Academy charter schools and tobacco company Reynolds American. 
Senior advisor and director of public service engagement to the mayor: Andrea Shapiro Davis
A longtime City University of New York leader who most recently served as interim vice chancellor for university advancement, she previously worked as a senior advisor to former Mayor Bloomberg, whose City Hall she worked in for all 12 years. 
Chief of staff to the first deputy mayor: Jeff Rodus
Rodus comes from CMW Strategies, where he was a lobbyist representing clients such as the Brooklyn Museum and the Building Trades Employers Association. Before that, he was a top City Council staffer under Speakers Christine Quinn and Melissa Mark-Viverito.
Chief of staff to the deputy mayor of operations: Jimmy Oddo
The borough president of Staten Island from 2014 to 2021, Oddo said that deputy mayor of operations was his "perfect job." Now the Republican will be the deputy mayor's right hand.
Communications director: Maxwell Young
Young is now chief public affairs officer and senior vice president at Everytown for Gun Safety. Before that, he worked in communications for the Metropolitan Transportation Authority, The Rockefeller Foundation and U.S. Sen. Chuck Schumer.
Press secretary: Fabien Levy
Levy comes from Attorney General Letitia James' office where he was press secretary and senior advisor. Levy did communications for a variety of political campaigns and government offices over the last 15 years including a stint working for now-Gov. Kathy Hochul when she was serving in Congress. 
Special assistant to the mayor: Rachel Atcheson
Rachel Atcheson will serve as senior assistant – and unofficial food diarist – to Adams, as well as the at-large director of the SUNY Downstate Committee on Plant-Based Health and Nutrition. Atcheson previously worked on animal welfare issues in the mayor's office. 
Executive director of mayoral security: Bernard Adams
After hiring his brother to lead his security team, the mayor is seeking a waiver from the Conflicts of Interest Board for the clear violation of benefitting a close family member. Bernard Adams is a retired NYPD sergeant who more recently worked at ​​Legalshield, a multilevel marketing firm, and as an administrator at Virginia Commonwealth University's office of parking and transportation. 
Agency Heads
Administration for Children's Services commissioner: Jess Dannhauser 
New York City's child welfare system will fall under the leadership of Dannhauser, the former president and CEO of Graham Windham, a social services nonprofit for children and families. Dannhauser previously worked at ACS in several positions, including associate commissioner for performance measurement, monitoring and improvement.
Department of Citywide Administrative Services commissioner: Dawn Pinnock
Already the acting commissioner since November, Pinnock will officially get the commissioner title in the Adams administration. She was previously the DCAS executive deputy commissioner, and before that, worked for New York City Transit and NYCHA.
Department of City Planning Director and City Planning Commission chair: Dan Garodnick
Most recently president and CEO of the Riverside Park Conservancy, who brought lawn-mowing goats to the greenspace, Garodnick is best known for representing much of the east side of Manhattan in the New York City Council from 2006 until 2017. In that position, he helped negotiate the purchase of Stuyvesant Town and Peter Cooper Village. 
Department of Correction commissioner: Louis Molina
Molina was most recently chief of the Las Vegas Department of Public Safety in Nevada, but before that, the former NYPD detective served for about a year as the chief internal monitor and acting assistant commissioner in the DOC's compliance unit, which monitored the use of force in city jails.
Schools chancellor: David Banks
Banks has been helping Adams' transition, but is best known as the founding principal of Eagle Academy for Young Men, a network of public schools geared toward low-income Black and Latino boys. His reported partner is Sheena Wright, who has been appointed deputy mayor for strategic initiatives. 
Department of Finance commissioner: Preston Niblack
Niblack has been outgoing New York City Comptroller Scott Stringer's deputy comptroller for budget for about five years. He previously worked in the City Council finance division, and did a stint in the private sector at lobbying firm Manatt, Phelps & Phillips.
Health commissioner: Dr. Ashwin Vasan
A mental health specialist and primary care physician, Vasan is currently the CEO of Fountain House, a national nonprofit that provides services to people with mental illness. He also practices internal medicine at New York-Presbyterian Hospital and is an assistant professor at Columbia University's Mailman School of Public Health.
Vasan will replace Dr. Dave Chokshi beginning March 15. Chokshi, referred to as "the city's doctor," was appointed in August 2020 and has served as the public face of the agency through some of the darkest days of the COVID-19 pandemic.
Department of Investigation commissioner: Jocelyn Strauber
A partner at law firm Skadden, Arps, focusing on government enforcement and white collar crime, Strauber was previously co-chief of the Terrorism and International Narcotics Unit for the U.S. Attorney's Office for the Southern District of New York. Strauber will have to be approved by the City Council, since the DOI acts independently from the mayor. 
Corporation Counsel: Sylvia Hinds-Radix
Hinds-Radix will lead the city's law department. She was first elected as a judge in 2004, most recently serving as associate justice of the state appellate division, second department. She started her career in legal services for District Council 37, and she was the one who swore Adams in as mayor on Jan. 1.
NYPD commissioner: Keechant Sewell
The first woman to lead the department will be the former chief of detectives in the Nassau County Police Department. Sewell is originally from Queens and has been in policing for 25 years. 
School Construction Authority president and CEO: Nina Kubota
Kubota has been with SCA since 1998, and took over the top spot in April 2021 when de Blasio appointed Grillo to lead the city's pandemic recovery. She'll remain in her position in Adams' administration. 
Department of Small Business Services commissioner: Kevin Kim
Previously commissioner of the New York State Liquor Authority, Kim was more recently a partner at law firm Yoon LLP, specializing in liquor license law.
Department of Social Services commissioner: Gary Jenkins
At DSS, Jenkins will oversee both the Human Resources Administration and the Department of Homeless Services. He was already serving at the HRA as administrator since September 2020 and has been with that agency his entire career, starting more than 30 years ago in 1989.
Transportation commissioner: Ydanis Rodriguez
The term-limited City Council member who always seemed to be by Adams' side on the campaign trail will lead the Department of Transportation, after eight years providing oversight as chair of the City Council's Committee on Transportation. Before taking office, he was a teacher and activist.
Other Offices
Chief Efficiency Officer: Melanie La Rocca
Commissioner of the Department of Buildings since May 2019, La Rocca will now be taking on a newly created role in the Adams administration known as "the efficiency czar." Before DOB, she worked under Grillo at the SCA and was chief of staff to former City Council Speaker Christine Quinn.
Chief Technology Officer: Matt Fraser
Fraser will be taking on the newly expanded role, which will oversee the Department of Information Technology and Telecommunications as well. He's currently the NYPD deputy commissioner of information technology and did a private sector stint before that as director of consulting services at Gartner.
Economic Development Corporation President: Carlo Scissura
Scissura has been president and CEO of the New York Building congress for five years, and before that, led the Brooklyn Chamber of Commerce. He'd previously served as chief of staff for Brooklyn politicos including former Borough President Marty Markowitz, Assembly Member Peter Abbate and former state Sen. Vincent Gentile. Scissura is well-connected in Brooklyn Democratic politics, and recently served as chair of the Kings County Democratic Committee. Though his appointment was reported by The Real Deal, Adams declined to confirm Scissura had secured the job, after The City reported that he had appeared to do unregistered lobbying for real estate deals involving city entities. 
Mayor's Community Affairs Unit: Fred Kreizman
A longtime veteran of the Mayor's Community Affairs Unit under former Mayor Michael Bloomberg, Fred Kreizman will now head up the office himself. Kreizman is returning to city government now after working at Capalino as managing director.
Mayor's Office of Contract Services director: Lisa Flores
Longtime city government veteran Lisa Flores will lead the Mayor's Office for Contract Services, New York City's procurement office. Flores currently serves as deputy comptroller for contracts and procurement and will be returning to MOCS, where she previously served as deputy director.
Mayor's Office of Ethnic and Community Media executive director: José Bayona
Bayona will be the first one to lead this newly created office, though he previously held a similar role under de Blasio, as director of community and ethnic media and deputy press secretary in the mayor's office. Bayona was a spokesperson on Adams' mayoral campaign, and before entering government, was a journalist at the Daily News, NY1 and El Diario.
Mayor's Office of Intergovernmental Affairs director: Roberto Perez
Perez was appointed to lead de Blasio's Community Affairs Unit in Feb. 2021, but before that he was senior executive director of intergovernmental affairs at the Department of Education under former Chancellor Richard Carranza.
Mayor's Office of Immigrant Affairs commissioner: Manny Castro
Castro is coming from outside government as the executive director of Queens nonprofit New Immigrant Community Empowerment. Before that, Castro was an organizer with the New York Immigration Coalition.
Mayor's Office of International Affairs
Luxury real estate attorney Edward Mermelstein will head up the city office tasked with international diplomacy. Mermelstein donated to Adams' campaign but is a Republican and has worked with another New York real estate figure, former President Donald Trump.
Office of Management and Budget director: Jacques Jiha
Adams is asking Jiha to remain in the role he's held since October 2020 . Before that, he served as de Blasio's finance commissioner.
Mayor's Office of Operations: Dan Steinberg
The mayor's governmental operations office will be led by Dan Steinberg, who comes with experience in management and analytics. Steinberg previously served as chief of data analytics for the NYC Vaccine Command Center.
Mayor's Office of Policy and Planning director: Sherif Soliman
Currently de Blasio's finance commissioner, Soliman will be moving to a new role. He'd previously served as a top aide to deputy mayors in the de Blasio administration and as director of state legislative affairs.
Mayor's Office of Risk Management and Compliance: Marjorie Landa
Marjorie Landa will be the first to lead the Mayor's Office of Risk Management and Compliance, an office Adams is creating to reduce fraud and waste across city agencies, starting with the budgets of the Department of Education, the Department of Correction and the New York City Housing Authority. Landa comes from the city comptroller's office too, where she serves as deputy comptroller for audits and investigations. 
NYC & Company president and CEO: Fred Dixon
Dixon started leading the city's tourism arm at the beginning of the de Blasio administration and will stay on under Adams. He's been with NYC & Company since 2005, and before that worked in a similar role in Nashville.
Taxi and Limousine Commission chair: Aloysee Heredia Jarmoszuk
Adams announced that Heredia Jarmoszuk will stay in the position that she's held since early in 2020. She previously worked in City Hall as chief of staff to the deputy mayor for operations.

https://www.cityandstateny.com/politics/2022/01/whos-who-eric-adams-administration/360056/